Interior Wood Finish One-Coat Oil
The handcrafted workmanship of log home interiors makes one of the most beautiful expressions of environmental architecture in the residential housing market today. Organiclear™ interior wood finishes (IWF) are ideally suited to impeccably enhance, protect and prolong the beauty of interior wood surfaces, all at the same time. Organiclear™ IWF in "natural clear" creates a lustrous and impressive wood finish that softly highlights the natural grain and texture of wood. The outstanding visual impact of Organiclear™ IWF is enriched by the quality built into every drop of wood finish. The exclusive IWF blend of oil-enriched ingredients for log homes imparts a beautiful finish that lends a rich ambiance to the interior of your entire home.

Two Deep-Penetrating Formulas
Organiclear™ IWF-P
Organiclear™ IWF-P is a unique polyurethane blend of oils and resins which gives a luxurious luster to log surfaces. IWF-P penetrates deeply into wood fibers to prevent excessive drying and splintering. The finish results in a low-gloss, microporous film that lets wood breathe and will not blister or peel. IWF-P also gives wood a durable finish that is highly resistant to scratching and everyday wear and tear in just ONE COAT. Log walls are easy to dust and clean with normal domestic detergents.

Organiclear™ IWF-A
Organiclear™ IWF-A is a "high solids" alkyd interior wood finish specially blended to protect the beauty of walls and woodwork. IWF-A provides a natural, non-glossy finish while allowing the oils and resins to penetrate the wood fibers and bring out the natural-grain beauty. The finish reduces excessive drying and prevents splintering, blistering, peeling or cracking. The microporous finish allows wood to breathe to insure that moisture doesn't get trapped in the walls. Wood surfaces finished with IWF-A are resistant to stains and scratches. Organiclear's™ IWF-A offers many of the same characteristics as IWF-P, with the added benefit of being tolerant to limited outdoor application such as garden furniture.

Features
Easy to Apply

Quick Drying

Highlights Wood Grain

One-Coat Application

Oil-Enriched

Deeply Penetrating

Allows Wood to Breathe

Reduces Splitting and Checking
Prevents Splintering

Easy-to-Clean Surface

Water-Resistant

Ready-to-Use

Natural Clear or Color Stains

Color Chart
Use Organiclear™ IWF-P and A wood finishes inside your home and water-repellent WR or TM-Series outside for a totally integrated Organiclear™ wood coating and finish protection system. There is an Organiclear™ product available to satisfy the distinctive image you want to convey in your home.
The Organiclear™ IWF-P and A are excellent finishes for interior log walls and natural wood paneling. IWF-A may also be used to enhance the beauty of interior woodwork and is tolerant to limited exterior exposure, allowing many outdoor applications.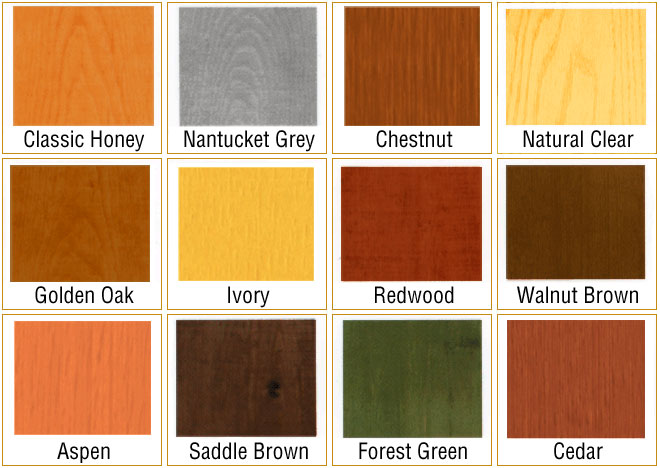 Important:
Stain colors may vary due to wood type, color, porosity and application rates. It is recommended that testing be done on an inconspicuous area or sample piece of wood prior to application to determine if color is satisfactory.
Preparation Guidelines
Before Use
Organiclear™ IWF is formulated for interior and limited exterior use. The application area should be well-ventilated. Before coating, inspect the interior walls to be sure it is dry, clean and unpainted. Remove any loose dust or dirt with a vacuum. Sand the wood if necessary to clean problem areas. Fill any holes with a quality wood filler to match the wall color. Prior to use, stir well and do not dilute the formulation. Routinely stir during application.

Proper Attire
To protect against skin irritation, you or your wood treatment contractor should always wear a long-sleeved shirt, long pants and goggles. Use an OSHA approved mask to protect against breathing vapors or mist. Inside ventilation is important: open windows. For your safety, please read the product label carefully before use.

Weather
Apply at indoor temperatures of 50°F to 80°F.

Surface Preparation
Be sure that wood is free from dirt, dust, bark, sawdust, mud, and pre-weathering discoloration. Wood must be dry and unpainted. Scrubbing with a detergent/water mixture will remove any dirt. If mildew is present, it can be killed and removed by scrubbing with a solution of one quart household bleach, one gallon of water and one pound of TSP-90 (available at your local hardware store) or non-ammoniated detergent. Rinse off completely and allow to dry after scrubbing.

Mill Gaze Remover
Although a brand new deck or wood surface may look clean, it has dirt, mildew, waxy residues and mill glaze.

Mill glaze is produced by high speed planes in modern lumber mills. Often the high speed planes not only plane the wood, but they crush the exterior wood fiber to create a very shiny lumber surface. The crushed fibers do not let stain and seal coatings absorb properly, causing finish failure.

Apply a deck preparation mill glaze remover product. These products are designed to clean the deck, lower the pH, relieve the surface tension and help the wood to absorb the sealer or stain evenly. This assures maximum stain absorption, prevents flaking or scaling of the coating and leads to a longer lasting job without a splotchy look.

Application
Method of Application
For best results, apply IWF liberally with a medium-fine bristle paint brush when the material is at room temperature. Start painting from the top of the interior wall.

Coverage
Depending upon the method of application and the porosity, texture and dryness of the wood, allow 200 - 400 square feet per gallon.

Drying Time
IWF is dry to the touch in about 2 hours and completely dry in 6-8 hours, depending upon temperature and humidity conditions in your area.

Cleanup
Use mineral spirits or paint thinner to clean brushes and equipment. Remove drips and spatters from all surfaces after completion. Wash skin thoroughly with soap and water.

Storage
Cover the product when not in use. Keep in tightly sealed containers out of reach of children.

Care and Maintenance
For cleaning of walls, use brush attachment on a vacuum cleaner. For marks, use mild soap or detergent for cleaning. Do not use abrasive cleaners, solvents, or lacquer thinners. Many factors can control the life expectancy of an interior wood finish. When the interior needs refinishing, completely sand the surface, vacuum all dust off the logs and apply one coat of IWF.
See our Log Home Care and Maintenance Guide.
Material Safety Data Sheets (MSDS)