Serious Ice Melting Crystals
ROAD CREW™ crystals begin melting ice and snow instantly to create a brine that breaks the bond of ice.
Multi-Component Granules Make the Difference
Most ice melters stop at 20-25°F above zero. ROAD CREW™ works effectively down to -15°F below zero. Potassium chloride, sodium chloride, urea and any combination of the three are not reliable below +20°F.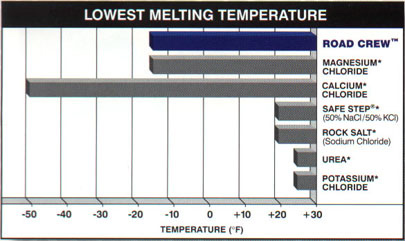 Not All Deicers are Created Equally
Performance is determined by:
Melting Time
Temperature
Foot and Vehicle Traffic
Shape and Composition of Deicer Particle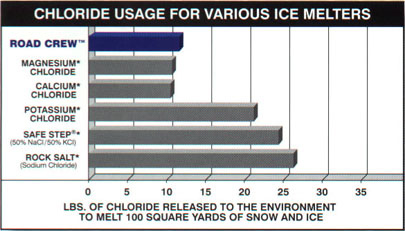 Tough on Ice and Snow, Easy on Plants and Concrete
Any deicer may be harmful to vegetation, but when used as directed, ROAD CREW™ will not damage trees, shrubs, flower beds, grass or concrete. The lower the chloride content, the lower the risk. The application of ROAD CREW™ results in one of the lowest amounts of chloride accumulation among commercial deicers.
Material Safety Data Sheets (MSDS)