The Best of Blends
Use the fastest, most effective ice-melting blend available to clear steps, sidewalks, driveways and parking lots – ComboTherm™ Commercial Strength Blended Deicer. It releases heat on contact, accelerating the melting process. A unique composition makes it an economical alternative to premium ice melters for maintenance professionals and property managers.
ComboTherm...
contains the highest percentage of calcium chloride of any blend on the market – at least 70%.

generates heat as it works, melting snow and ice faster than other blended deicers.

Is a better ice-melt material and a better value than blends composed mostly of rock salt, which are less effective when temperatures fall below 20°F (-7°C) (ComboTherm™ keeps working to -25°F [-32°C]).

is a unique "processed blend" that combines its deicing power into a single chip.

contains a green performance indicator – as the snow and ice melt, the color fades showing how
quickly ComboTherm™ works .
is an economical alternative to premium ice melters.

Watch It Work
ComboTherm™ has a built-in performance indicator to show you how quickly it works. When ComboTherm™ is applied, a greencolored additive appears as a visual aid to help prevent wasteful overapplication. Then, as the blend dissolves, the color fades – along with the snow and ice.

The Complete Package
Speedy melting action and ease of use at an affordable price that provides even more value because ComboTherm™ helps prevent icy buildup that can jeopardize the safety of residents, employees and visitors.
Comparitive Performance of Ice Melters
The table below illustrates the superiority of a blend high in calcium chloride to other deicing materials, and how ComboTherm™ outperforms other blends.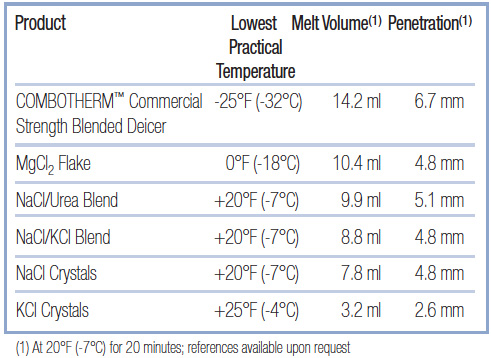 A Winning Combo
Blend a great product with the resources of a leader in calcium chloride manufacturing, and you've got a formulation that can't be beat. When you purchase ComboTherm™, you get the right blend of a superior product and the benefits our customers count on: reliable supply, consistent quality, quick response, and leading technical service and support. Contact a ComboTherm™ distributor today, and discover how the unmatched melting power of calcium chloride can help you chip away at your maintenance costs.
Material Safety Data Sheets (MSDS)
Sales Specification Sheets