Ice Melting Pellets
MAG ushers in the New Ice Age... a safer, environmentally friendly way to offer your customers the total ice control they are looking for. No other ice melter on the market today can compare with MAG. It is highly effective, while being cost efficient.
Dead Sea Works
MAG is a product of Dead Sea Works, a recipient of an ISO 9002 quality certificate and a worldwide manufacturer and distributor of chemical products. MAG is extracted from the Dead Sea by natural evaporation of sea water and an environmentally friendly refinement process.
Total Ice Control
MAG performs better and is safer and kinder to the environment. Its secret is Total Ice Control. As old as the Dead Sea.
MAG freezes (22% solution) at -33°C (-27°F) and melts effectively down to -25°C (-13°F), well below most ice melters.

MAG is safer for the environment because its chloride content is lower than competitive products by at least a full third.

MAG is less corrosive on metal than virtually all common ice melters.

MAG results in 26 times less spalling on concrete than calcium chloride or sodium chloride.

MAG is less toxic than even baking soda or common table salt.

MAG is safer to use around vegetation, plants, pets and, most importantly, people.

MAG is much less irritating to the skin than other ice melters.

MAG does not leave an oily film or dry powder residue.
MAG is Safer for the Environment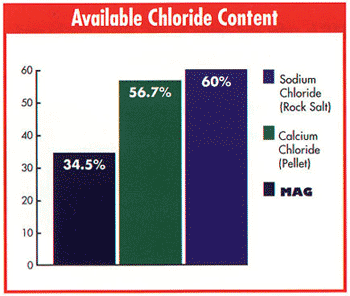 Kinder to the environment. Each spring, the runoff from melting ice and snow dumps harmful chlorides into lakes, rivers and reservoirs. When you use MAG, you reduce the chloride contamination in surface waters - because environmentally friendly MAG contains at least one-third less chlorides than either calcium chloride or sodium chloride.

Safer for Plants
Winter is hard enough on plants and shrubs without the added damage caused by some ice melters. Using MAG as directed keeps green areas healthier. Magnesium is a common ingredient in most fertilizers.

Safer Indoors
MAG won't leave a powdery residue on household surfaces like floors and carpets unlike most other ice melters.

MAG is Safer on Concrete and Metal Surfaces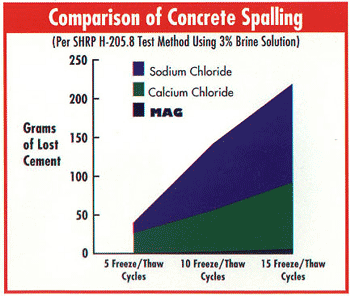 Safer on Concrete
The use of most ice melters sometimes result in damage to concrete sidewalks and driveways. Independent tests conducted by the National Research Council's Strategic Highway Research Program show that calcium chloride caused 26 times more chipping and scaling than MAG. Sodium chloride (rock salt) caused 63 times more chipping and scaling than MAG. MAG is much safer on concrete.

Safer on Metals
From shovels to fence posts, MAG helps prolong the life of metal equipment and surfaces that come in contact with ice melters. Tests show that MAG is significantly less corrosive to tin and aluminum than either calcium chloride or sodium chloride.

MAG is Safer for People and Pets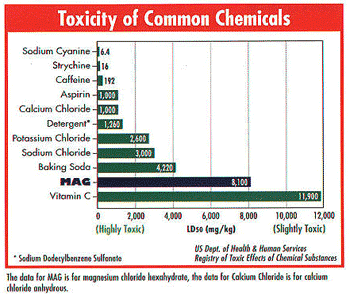 MAG is not only safer than other ice melting chemicals, it's actually less toxic than common household substances like table salt and baking soda. And it's significantly less toxic than some foods and medicines like aspirin or even caffeine.

Peace of Mind for Parents
Household safety is an issue with everyone, especially those with infants and toddlers. MAG's very low toxicity (it's almost three times less toxic than common table salt) makes it much safer to use and store in the home. And unlike some ice melters, it won't irritate tender skin.

Peace of Mind for Pet Owners
Wintry weather won't keep dogs or cats inside. With MAG, there's less worry about pets licking their paws when they return from a walk. MAG is actually used in farm feedstocks as a mineral supplement.

Material Safety Data Sheets (MSDS)
Sales Specifications Sheets