Organiclear WR-5 Premium Wood Coating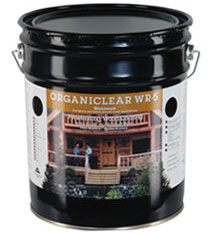 ORGANICLEAR WR-5 products are premium oil-based penetrating wood coatings. They provide the convenience of three maintenance operations in one application: Water repellency, ultraviolet radiation (UV) protection, and availability of clear or stain finishes.
WR-5 Wood Coatings provide superior exterior wood treatment protection with premium ingredient formulations that restore preserve and enhance the natural beauty of wood.
Water Repellency
A premium blend of oils, resins and waxes penetrate deeply into wood to form a resilient Moisture-Guard barrier that adds lubricity to the wood, yet allows the wood to breathe. This water repellency blend keeps out water to protect wood from damage by rain, snow or dampness in any climate.
Ultraviolet Radiation (UV)
Special ingredients provide maximum protection against ultraviolet radiation damage by combining UV absorption and control of UV degradation, thus minimizing graying and fading caused by weathering.
Clear Finish

May be applied as a top coat to give the wood a natural look or may be applied as an undercoat, allowing the selection of a stain at a later time. Will not crack, peel, blister or chip.
Stain Finish

Contains highly durable, premium quality pigments. Will not crack, peel, blister or chip.
WR-5's Extra Protection is formulated for the demands of humid climates, where high air moisture content is of primary concern. WR-5 performs excellent in semi-dry and dry climates as well.
Learn more
Organiclear TM - First Treat Product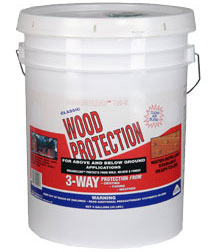 TM-5 (can also be used as a First Treat product) is formulated as a water-dilutable material for dipping. It is cost effective and economically sound for the commercial industry.
This special one-coat formulation is an aqueous-based, non-leachable, clear, wood coating designed to protect newly debarked or milled logs, green logs and finished logs that are to be stored.
Treatment should be applied immediately (within 24 hours) to protect logs from the weathering deterioration, sap stain mold, wood rot and insect damage that can occur during storage and processing.
TM-5 Wood Coating uses its water base as the conduit for maximum penetration into wood. Optimal protection is afforded against discoloration from UV rays and sap stain mold.
Low VOC emissions and economy are two important benefits. High moisture content in the log will not inhibit the penetration and diffusibility of TM-5 wood coating.
TM-5 is effective with all types of wood. Apply by spraying, brushing, rolling or dipping.
Learn more
Organiclear IWF - Interior Wood Finish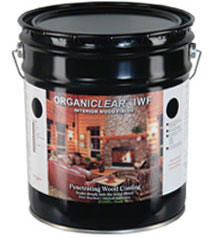 IWF-Polyurethane

IWF-P is a unique polyurethane blend enriched with natural oils and resins. It penetrates deeply into wood fibers to prevent excessive drying and splintering while enhancing the natural beauty of wood grain. A one coat application will provide a non-glossy, microporous film that lets wood breathe and will not blister or peel. Additional coats may be applied if increased gloss is desired. Available in clear or a variety of stains. Not recommended for wood floors.
IWF-Alkyd-based
IWF-A is a high solids interior wood finish specially blended for the interior of log homes. This coating provides a natural, non-glossy finish while allowing the oils and resins to penetrate deeply into wood fibers. IWF-A is an alkyd-based formulation that brings out the natural beauty. The finish reduces excessive drying, which can cause splintering and cracking of wood. The micro-porous finish allows wood to breathe and will not blister, peel or crack.
Both polyurethane and alkyd-based products are offered to meet popular consumer trends. Polyurethane should be used where increased glossy finishes are desired. Alkyd-base is applied on wood where the user does not desire a glossy-type finish.
Learn more